Here's How to Show Your Home Some Seasonal Love
The daffodils are already filling up the foyers of supermarkets everywhere, which means one thing: spring isn't far away.
If you're someone who loves the opportunity to refresh your home ahead of a new season, you're in luck, as this blog post is all about doing just that.
Here at Hello Sunday, we're sharing with you some easy ways to show your home some seasonal love. After all, we're all spending much more time indoors these days; why not spruce up your space while there isn't much else to do? Here's how: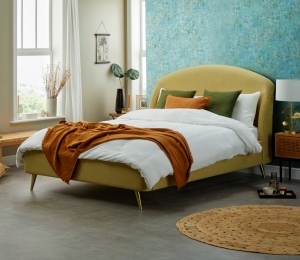 Bring the Outdoors In
It's no surprise that plant sales have soared during the pandemic, with many of us looking for cheap and simple ways to add some interest to our space.
By adding some greenery to your room, you're bringing the outdoors in and boosting your wellbeing too. There really is something relaxing about plants – and tending to them every day will give you a welcome focus during these challenging days.
Houseplants are also ideal for those who don't have a garden or yard; you can enjoy all the benefits of horticulture without having to head out into the cold and wintry weather. Try adding some greenery to your home this spring, too.
Don't fancy a plant? Fill your home with fresh flowers; daffodils are cheap and easy to come by, as are hyacinths and tulips – which are also in abundance in spring.
If you're keen to try a new hobby this year, why not indulge in something like wreath-making? You could create a spring-themed masterpiece for your front door, or even try flower arranging and create a vibrant, seasonal centrepiece for your dining table?
Consider Adding Colour to Your Space
Feeling bold? Why not paint a feature wall in a beautifully seasonally shade? Think pastel colours like mint green or pale blue to brighten up your room – or be  even bolder with a colour palette of teal and bright yellow.
If you're not feeling quite so daring, you can switch up your accessories more easily, adding cushions or other decorative items to your lounge, dining room, kitchen, bathroom or bedroom – and in brighter, more seasonal colours.
Blush pink and grey makes a perfect spring colour combo for those who like to play it safe, while painting one wall or area of your home in, say, bright coral or olive green might give a new lease of life to an otherwise neutral-looking space.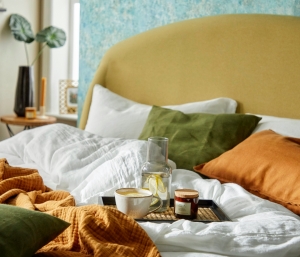 Try Something Different.
The Internet is full of inspiration for your home, with plenty of décor ideas that don't cost the earth.
Take a look around and see how you can breathe new life into old pieces of furniture. From using stencils and paint, to adding a coat or two of chalk paint to liven up an old piece, you may be able to create something new from something old.
Sometimes, though, the only thing for it is something brand new – and whether you're in need of a new bed or mattress, you've come to the right place; we have an extensive range of products here on our site – from ottoman beds to extremely comfy mattresses.
Do not hesitate to get in touch if your home's in need of a spring overhaul – we may have just the piece for you.